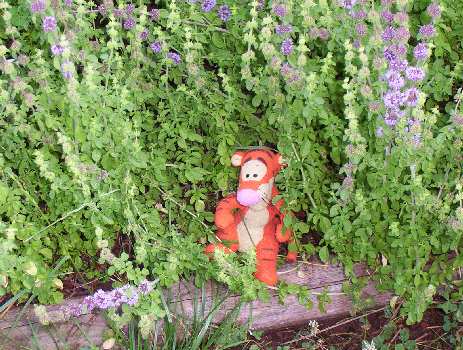 Pennyroyal
Mentha Pulegium
Uses: CO, H, M, O
Parts Used: F, L
Craft: Dried flowering stems & leaves add purple to dried flower arrangements.
Household: Crush the leaves and rub on your skin for a bug repellent. Grow around flowerbeds to deter ants. Dried leaves sewn into satches and placed in your pets' beds can help keep them safe from fleas. A diluted infusion of the leaves can be used as a pet dip, saturating their coat and allowing to air dry.
Medicinal: Wear a Garland of fresh leaves to relieve headaches.
Notes: Foliage has a peppermint smell, but leaves have a bitter taste. Should not be consumed at any time during pregancy. It can be toxic if used to excess by anyone. Unsafe when taken internally, can be fatal.
Disclaimer: Rams Hill Farm only includes Medicinal & Cosmetic use as a reference. Rams Hill Farm does not claim any medical knowledge. Readers should consult their physician before using any herbs for medicinal purposes. They should research these herbs on their own for risks, dosages, concerns, etc., particularly if these are intended for any medicinal treatments.
Drying Herbs: Hang in warm, dark, well-ventilated area until herbs are crisp(about 2 weeks). Store in a cool, dark area away from heat. Crumble herbs only as needed to retain the best possible flavor. A screen may also be used to dry any leaves not on a stem. Alternatively, herbs may be left in the fridge for several weeks to dry, this helps to retain the best color and flavor. Microwaving may cause the herbs to loose flavor from the high heat.
Uses abbreviations: Culinary; COsmetic; CRaft; Household; Medicinal; Ornamental; Fragrance; Economic; everLasting; Dye plant; Butterfly, bird, bee plant; Native
Parts Used abbreviations: Bark, Flowers, FRuit, Leaves, Roots, Seeds
References:
Herbs
Geoffrey Burnie, Consultant Editor
Fog City Press
Herb Bible
McHoy, Peter & Pamela Westland
Kitchen Garden Planner
Trout, Darrel
Country Home Books
Potpourri Gardener
James, Theodore, Jr
Macmillian Publishing
Herb Society of America
Mountain Meadow Seeds
There may be others